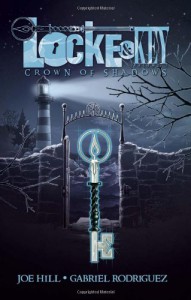 Alas, this definitely wasn't my favorite volume in this series so far. Let me tell you, things have gone to a very dark place at Keyhouse. While the first volume had me a little on edge because of all the violence, this one had me feeling a little icky because of all the darkness.
I guess it's probably only fair to mention that I have this weird tick when it comes to children and danger or violence. It's hard for me to like a character at all, even if I know what their motivations are, if they're mistreating a child. Right now, Bode's mother is not my favorite person. In fact, if I had the capability to reach into this graphic novel I would have slapped her repeatedly across the face already. I kind of had an inkling that dark days were coming for this family. I knew eventually things would stop being whimsical, and start being real. I just wasn't prepared.
That being said, this is all my own bias because the arc is still going strong in this series! There were some great new keys introduced, one of which broke my heart, and we finally see the true nature of our villain. You know what makes the villain in this series so gut-wrenchingly terrible? That I actually feel sorry for him/her sometimes. Joe Hill is an amazing writer, and I both love and hate him for it. As for the illustrations? You know the deal! I'm in love with Gabriel Rodriguez's expert work. It shines through here, even within the darkness, and it's going to keep me reading on.
I need to know what happens to this family.