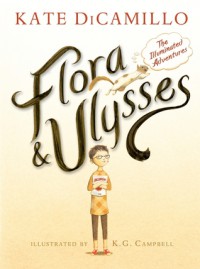 I'll be honest, and let you know that I tried once before to read Flora & Ulysses. Back when it first came out, actually. Perhaps it was because I was trying to read it on my Kindle, or perhaps it wasn't quite what I needed at the time, but I wasn't able to finish.
However, this read-through was actually rather delightful! I love Kate DiCamillo's writing for many reasons, but the main one is that it is always so deliciously whimsical. She writes about brave mice, strong friendships, and the goodness that hides within everyone. No matter who her stories focus on, they have a message worth reading. Flora & Ulysses is no exception to that rule, and I think young readers will love it.
Flora Belle is a sweet character. A self-proclaimed cynic, she has a habit of looking at the world as literally as possible. Only through her love of comics does that piece of her that might believe in the impossible peek through. That is, until Ulysses appears. An odd pair, this girl and her squirrel. Yet they are one that is undeniably adorable. I loved the idea that Flora's best self was brought to light when she met her superhero squirrel. Plus I loved Ulysses himself to the moon and back!
Now you're probably wondering why I gave this book a three star rating. To be honest, the biggest flaw I found in Flora & Ulysses was the fact that it tried to do so much at once. This isn't just a story about a girl and her friend. It's about a slightly broken family. About finding your best self. About looking for friends in the most unexpected places. Even about forgiveness. While I think that's all admirable, it created a bit of a jumbled story line. I wanted so much to just focus on the relationship between Flora and Ulysses.
Still, I think this is a story that young readers will love. The illustrations enhance the text beautifully, and overall this is just a fun story. It would be wonderful as a read-aloud between parents and their little ones.